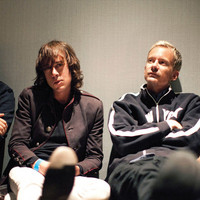 Hi guys, well this magnificant song is pretty simple.



The verse riff goes like this:





Em, A, Bm, G, and at the end it goes F# to G.





And then the bridge  [and then its piko tea with the reflection of me etc etc] is:





https://www.coveralia.com/acordes/the-hotel-majestic-fountains-of-wayne.php




							A, D, A, D, A, D.  You can hear Jodie picking the higher strings.

Then it goes



G, D/F#, A



And then Em, A over the stuck at the hotel majestc bit.