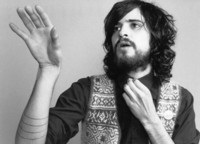 INTRO

A maj, Asus4th

PART 1

Amaj               Asus4th          Amaj 
I'm high and I'm happy and I'm free
I've got my whole heart laid out right in front of me

Bmin
And I finally can see

Amaj                      Emaj
The way it's always been

Bmin             Amaj                    Emaj
The need for peace starts from within.

So I laid my posesions to the wind
And i'm done with ever wanting anything

Bmin
But i can die satisfied,

Amaj                      Emaj
No desires do i hide

Bmin
not today, not today

Amaj                                Emaj
nor for the next 1000 lives

TRANSITION;

Fsharp minor, Emaj (X3 and a half)

PART 2

Aminor, Gmaj

I Wanna Be a Little Seahorse

G maj, Aminor.....

Cmaj, Bflat major...

Aminor, G maj....

I Wanna be a little seahorse

I wanna see the little green men,
oooooh sleep with me 
now and then

i wanna see little green men 
now and then...........

oooohh oooooo hhhhhho......

TRANSITION FROM 6/8 TO 8/8.

PART 3

Lead guitar line.... (A minor pentatonic....)

Aminor, G maj, Dmaj........

Well I'm scared of ever being born again......

Guitar Solo

Then back to the Intro for a few bars.