Acorde de Embarrassement [Live] - Madness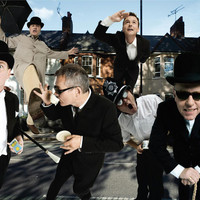 Am
Received a letter just the other day,
Em
Don't seem they wanna know you no more,
Am
They've laid it down given you their score,
Em
Within the first two lines it bluntly read.


D
You're not to come and see us no more,
F#7sus
Keep away from our door,
Am
Don't come 'round here no more
Em
What on earth did you do that for?

D
Our aunt, she don't wanna know she says,
F#7sus
What will the neighbours think they'll think,
Am
We don't that's what they'll think, we don't,
Em
But I will, 'cause I know they think I don't.

C
Our uncle he don't wanna know he says,
Em
We are a disgrace to the human race he says,
 G
How can you show your face,
Dsus4                         D
When you're a disgrace to the human race?