The Rolling Stones
Singles Collection: The London Years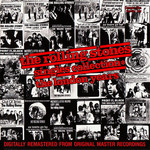 Carátulas
Lista de canciones
Video destacado
Videos de The Rolling Stones (47 videos)
Añadir The Rolling Stones a mis artistas favoritos
Añadir Singles Collection: The London Years a mis discos favoritos

Si te gusta The Rolling Stones, te gustará:
Noticias relacionadas
Los incombustibles Rolling saldrán de gira mundial para ofrecer conciertos desde Estados Unidos a Reino Unido y llevará por título "50 and counting" en referencia a la celebración de los 50 años como grupo. La gira dará salida en Los Angeles, sin fecha confirmada, pero presumiblemente en mayo.
Ronnie Wood, el guitarrista de los míticos Rolling Stones, asegura que "están listos" para una iniciar una gira en su 50 aniversario juntos como banda.
Tras una ausencia de más de 25 años, Mick Jagger, el cantante de los Rolling Stones, vuelve a la cima de las listas de éxitos de Reino Unido por el tema ("T.H.E. The hardest ever") del nuevo álbum en solitario de Will.I.Am
Noticias de The Rolling Stones (14 noticias)
Fotos de The Rolling Stones
Fotos de The Rolling Stones (14 fotos)
Enlaces de The Rolling Stones
Comentarios de este disco